Who is Anita Kilkenny?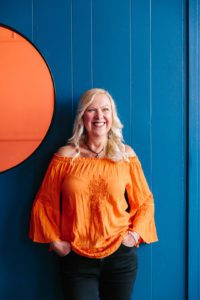 Honoured to be a recipient of various awards and nominations, Anita Kilkenny is a highly-acclaimed administrator, educator and virtual assistant to health and wellness professionals throughout Australia, Bali, Canada and the US and now the proud owner of VA Trainer and VA Directory.
She also co-found the Australian Virtual Assistants Association and the Australian Virtual Assistants Conference with Kathie Thomas and is a former Social Media Mentor for VA Classroom University which is now called Freelance University.
With over 35 years experience in the secretarial field and over 28 years as a Virtual Assistant, you can be assured that you are in very capable hands and learning from someone who has been involved in the VA industry for a very long time..
Anita has won several awards, nominations and post-nominals including:
2015 and 2019 Nominated Motivating Mum Biz Mums Awards
2013 Nominated for the Telstra Business Woman of the Year Award
2011 Nominated for the Thomas Leonard International Virtual Assistant of Distinction Award (IVAD)
Accredited Office Professional (AOP)
Master Virtual Assistant (MVA)
2006 AIOP Presidents Award for Excellence
2006 Finalist AIOP National Award of Excellence
2003 AIOP Award of Excellence
2001 and  2002 AIOP Encouragement Award
Bachelor of Business, majoring in Office Administration and minor in Marketing (B.Bus. Monash University)
Anita was an active committee member of the Australian Institute of Office Professionals (AIOP) for nearly 10 years, taking on roles such as Finance Officer (3 years), Office Professionals' Day Breakfast Convenor (3 years) Newsletter Editor (3.5 years), Vice President and Webmaster.
In 2005, Anita was invited to serve on the organising Steering Committee for the Online International Virtual Assistants Conference (OIVAC) to assist with the website and registrations and was also involved in establishing International Virtual Assistant's Day (and who coined the phrase) which is now celebrated annually on the third Friday of May. Anita served on the committee for 4 Conventions and has been invited back again in 2017.
In 2009/2010, Anita co-founded the Australian Virtual Assistant Conference together with Kathie Thomas from A Clayton's Secretary along with a wonderful support committee of fellow VAs, which was held on 12 and 13 March that year. The two day event was an amazing success.  The subsequent conferences met with the same success and is now a regular event on the VA yearly calendar.
In 2016, Anita was elected President of the Australian Virtual Assistants Association (AVAA) after serving as Vice President since it's inception.
In 2021, Anita acquired VA Directory – where clients can source a VA to partner them in their business and VAs can join and be a part of an Aussie community that's spanned over 25 years. and VA Trainer where you can learn to become a VA in 12 weeks.
Who is Kathie M. Thomas?
Kathie M. Thomas is a successful Virtual Assistant with a 20+ year old Virtual Assistant practice. She was a VA before the term 'virtual assistant' was in use.
The founder of VA Network A Clayton's Secretary/VA Directory, established March 1994, she pioneered the Virtual Assistant industry in Australia. Prior to establishing her business she had a background of 20+ years' secretarial/administrative experience in the corporate world, working for CEOs and MDs as well as project groups and also training and guiding junior staff.
Kathie has experience as a trainer and began her business teaching others how to use Microsoft Office products in 1994.
Kathie has two certifications in the Virtual Assistant Industry as a Master Virtual Assistant and an Accredited Secretary Online.
Kathie is a multi-award winner in her own Virtual Assistant business.
Kathie has managed a network of virtual assistants with members in 11 countries for 27 years and was a moderator for two well-established VA forums totaling over 10,000 virtual assistants members worldwide.
Kathie is a published author of many articles in publications and 4 books on home-based business.
Kathie is listed in Who's Who of Australian Women.
Kathie is an industry leader who frequently speaks at public seminars and workshops throughout Australia about working virtually, as well as online international seminars and teleconferences.
Kathie was a founding Steering Committee member of the OIVAC for 3 years and the Master of Ceremonies for the inaugural industry awards presentation at the Convention in 2006. She returned to the steering committee in 2018.
Kathie is a co-founder of AustralianVAConference.com, an annual event held for 10 years in Australia for the industry.
Kathie was a Board member of Self-Employed Australia, representing the Virtual Workers Industry in Australia for 8 years, stepping down late 2020.
Kathie retired from VA Directory in March 2021, leaving it in the capable hands of Anita Kilkenny, an equally well experienced and long-term VA. Kathie now manages VA Trainer and pursues other interests from her home in the hills of Melbourne, Australia.
Follow Us on Socials ...